Brigit Review
Brigit is one of the best apps for credit services. This is a popular online platform that allows you to borrow money. If a person is in an unpleasant financial situation, using a loan is a way out. Thus, you cannot worry about money until the next paycheck. But, unfortunately, the loan cannot be taken big.
Brigit connects to the consumer's checking account through an online application and tracks spending. The person is encouraged to use the free-spending plan.
The application also functions for various financial consultations and assistance in budgeting for the month. When a person has an overdraft, special notifications will come.
In this review of Brigit, we will take a closer look at the principle of the application, compare the pros and cons of the company, and tell you how the application and support service work.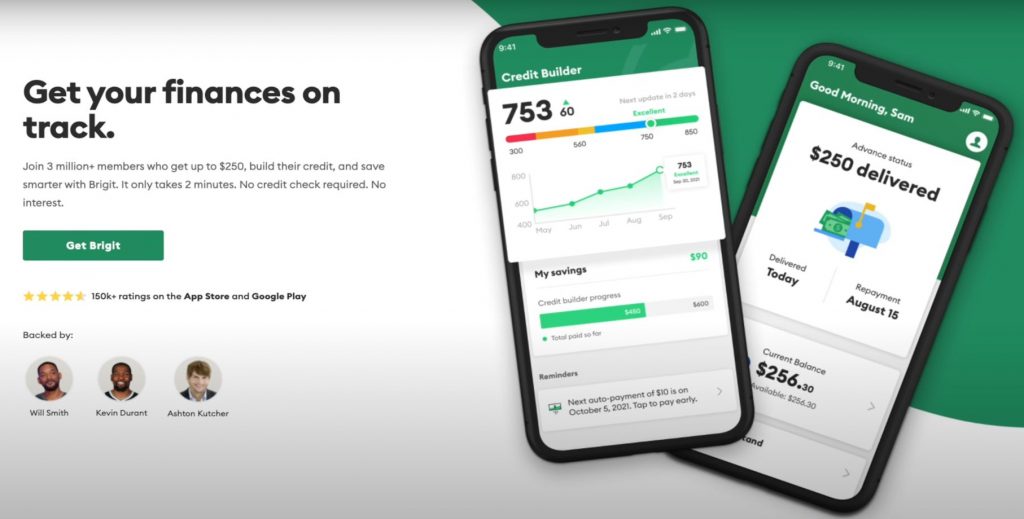 Pros and Cons of Brigit
The company has been operating for several years on the market. Over the years, the application has had many changes. Therefore, Brigit has a list of advantages and disadvantages. Let's take a look at them below:
Pros:
Ability to be notified every time a customer has an overdraft
Automatic overdraft protection is available
Tracking customer spending
Possibility to extend the repayment period two or three times
No interest or late fees
Cons:
Slow money deposit
Monthly membership fee of $9.99
Lack of support for joint bank accounts
What is Brigit?
Brigit is a mobile app designed for budgeting. It connects to your bank account and advises on how to adjust costs. In addition, Brigit offers you a small cash advance to the account if you need it.
The amount varies from 50 to 250 dollars. The application itself chooses which advance you approve based on your banking activity. In addition, it has an algorithm that shows you are at risk of going negative in your bank account. This feature can be useful to save you from overdraft fees through your bank. Brigit automatically sets an early repayment schedule.
How does Brigit Work?
When your existing bank account is low on funds, you can request a cash advance of up to $250 from Brigit. To receive a cash advance, you must use the paid plan, which includes all the features of the free plan, plus cash advances, automatic direct deposits to your account if you will use an overdraft and credit monitoring.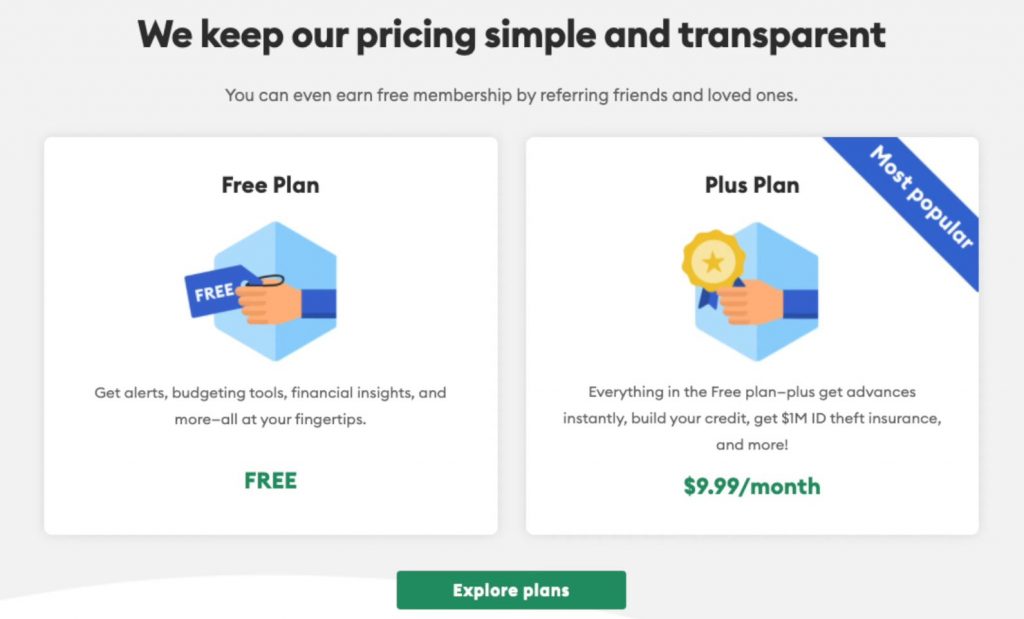 Once the repayment is confirmed in your bank account, Brigit will notify you 24 hours before the due date. In this case, the payment is automatically debited from your personal account. There are no costly overdraft fees or interest charges for this service. If there are problems with the deposit repayment, then Brigit allows you to extend the repayment period to avoid overspending on the account. But if you want to borrow more than $250, consider other short-term loan options.
It is worth noting that the application can be used for free and only with educational features. You can also pay for the $9.99 monthly plan, which offers a $50 minimum deposit, credit creation tools, and $1 million in identity theft protection.
Features & Services of Brigit
Since the platform charges monthly subscription fees, there are no upfront charges or additional amounts borrowed from community members. Therefore, there is no interest.
Brigit's goal is to make significant progress in achieving good financial education among the population. And help those who need a little amount of money until the next paycheck. It also has an overdraft advance feature that alerts you when your bank balance is low and provides automatic overdraft protection.
By downloading the application to your mobile phone, you get not only access to advice on financial solutions but also other valuable additions.
Loan to create credit. Clients can opt into a credit-builder loan. Payments are reported to three major credit bureaus. Brigit deposits the loan funds into a credit account, and you make monthly payments over 12 months. According to the loan terms, when it is repaid, you will receive back the invested money.
Creditworthiness monitoring and alerts. The application allows customers to view financial products such as credit scores and credit reports. And also get access to the credit rating simulator and receive change notifications.
Identity theft protection. Brigit will reimburse you if your personal information is stolen. The app will also help you cancel and replace lost IDs and credit cards.
Terms and conditions that are important for account verification include a bank account with a balance greater than $0, a cash cushion before you receive a loan, and a bank account that is more than 60 days old and meets Brigit's conditions. In addition to cash advances, Brigit's paid monthly subscription includes a $1 million credit creation tool, credit monitoring, and identity theft protection.
Brigit Fees & Rates
The application has a free version with some financial tips and budget tools. But to use the functions of advance and building loans, users are invited to pay a monthly fee of $9.99 for a subscription.
The membership fee gives you access to the Plus program you become a part of. You can advance up to $250 without commissions and tips. There are no costly overdraft fees or interest charges for this service.
Also, you don't need to pay late fees. Or anything other than the cost of the membership. With Brigit, you don't have to worry about monthly expenses. Using the application, you will learn not only to save but also to allocate costs for your needs correctly.
And if there is a hole in the budget, the platform will give an interest-free loan. It makes sense to join thousands of people who have already rated Brigit's capabilities for the highest score.
Safety and Security of Brigit
Brigit cares about the safety of its customers. Privacy and ease of use play an important role. It has put in a lot of effort to keep consumers satisfied. The company uses 256-bit encryption.
The same is used by banks. This helps protect and monitor account information to detect unauthorized activity. If there are suspicions that manipulations are taking place with the account, the support service will help to resolve this issue.
In addition, to protect the account, customers must create a PIN code and link their phone number. Since Brigit provides customers with multifactor authentication, automatic logout, and identity verification, it is high quality to prevent unauthorized access to data. Brigit's management team is also carefully selected.
All people in the company are trained and adhere to the corporate code. They always take refresher courses. At the training, they study issues of legal and security.
Is Brigit Legit?
The business has been in existence for many years. Brigit's loan services are not approved by the Better Business Bureau (BBB). Even though they were reviewed by the national consumer organization and completed all of their strict requirements.
But the platform still has The BBB Rating & Accreditation. This means that the platform is reliable and a good quality. Brigit Platform Supported, first of all, Brigit is an application that helps you adjust your finances.
Secondly, it is a tool for taking a loan for a small amount. Brigit's app is a high-quality tool with the benefits and features listed above. Users can rest and receive the cash they need through their smartphone or tablet anytime.
In Brigit, you can get useful tips, check what the money was spent on for a month or a year, and draw conclusions on financial literacy. The platform is aimed at providing high-level services using modern technologies.
With it, you can forget about complex formulas and calculations. You need to download the app from the app store for Android or iPhone. It is available for free.
Customer Service at Brigit
The Brigit team has a staff of managers who promptly keep in touch with clients by mail. The maximum response time is 2 days. On its website, the company adds that it strives to make the best use of its users' time and respond to questions and concerns as soon as possible.
Until recently, this was the only way to solve any problem. Now, to get the fastest response in the application and on the website, you can chat with the new bot Jess, which works around the clock and from Monday to Sunday, without days off.
If you cannot find a solution to the problem, you will be redirected to a chat with a customer service employee or send a request. Brigit promises you will get an answer within 24 hours. So, customer service works flawlessly. Brigit never contacts or calls its clients.
For Which Needs Does Brigit Fit the Best?
The app suits those who want a convenient budgeting tool that works with their existing checking account. Also, the application is suitable if you want to make a plan for repaying an advance and covering other expenses. Or have a currently active account to which deposits are regularly received.
The app will help you become more financially literate and learn how to manage your rent and utility expenses. Brigit is not for you if you're hoping to keep borrowing until your next paycheck or if you're not willing to pay the monthly installment to get a full-service package (including a microloan).
If you primarily receive income from somewhere other than a job, this platform is not for you. If you have a low credit score, you can still use Brigit. It is perfect if you urgently need to buy a gift or pay bills but there is not enough money.
What are Apps Like Brigit?
Without a doubt, Brigit is a cool and practical application. But it has alternatives. They are also trendy and have the same features. Brief information about three of them is presented below:
| | | | | |
| --- | --- | --- | --- | --- |
| Loan app | Loan amount | Speed without paying a fee | Fast funding fee | Other fees |
| Earnin | $25 – $250 | 12 to 48 hours. | $0.99 – $7.99. | None. |
| Dave | $5 – $200 | Up to 3 days | $1.99 – $5.99. | $1 monthly membership fee. |
| MoneyLion | $25 – $250 | 12 to 48 hours. | $0.99 – $7.99. | None. |
The Review Process
We have done a lot of research of Brigit for you. We were guided by stringent technical criteria, the company's experience on the market, independent customer reviews, and experts' assessments when making our choice.
All of them have gone through a rigorous selection. The review process took some time. We remarked on what types of fees the company has, which banks it cooperates with, how quickly it processes applications, at what interest rates they give loans, and much more.
After that, we compared all the options and selected Brigit from them. You can rate this app too. And we believe you will like it. We have many years of studying the topic behind us. We cooperate only with the best organization. Our team has conducted multiple pieces of research, so we are fully responsible for the result.
Is Brigit Worth it?
Brigit is worth downloading. This is a handy app and platform for those who need to make an emergency purchase and have the funds for monthly payments to cover them quickly. If you are a US resident 18 years of age or older, Brigit is available to you.
An active bank account is required to use some of our features, such as Brigit Finance Helper, and a regular deposit is required to qualify for Brigit Instant Cash, in addition to other basic requirements.
The app is available even to those with no credit cards or low credit scores. But if you have significant debt and don't have the finances to cover your payments, getting another loan is not your option.
All in all, this is a great no-interest option for those who don't want to put their lives on hold. She also wants to learn how to manage her finances effortlessly. Just a small monthly subscription fee and a wide range of tools at your service.
FAQ
Does Brigit work with Chime?
Yes, we confirm the work with Chime. The platform accepts Chime as a payment method for goods.
Does Brigit report to the credit bureau?
Yes, your credit builder payments and current credit builder loan balance will be reported to all three bureaus, TransUnion, Experian, and Equifax, every month.
Can you return the advance early?
Yes, you can return the advance early if you wish. You can also extend your payback period with the app. Visit the Brigit website for details.
Does Brigit run your credit?
No, the platform doesn't run a credit check to sign up for Brigit or request cash advances.
Does Brigit affect your credit?
No, Brigit does not check your credit score to decide if you qualify for a loan. Also, the platform will not affect your credit score.
Who is the Founder of Brigit?
Zuben Mathews is the CEO and Co-Founder of Brigit. The company was created by enthusiasts who wanted to help people become more financially literate and enable them to borrow a small amount of money for their emergency needs.
What banks does Brigit work with?
Brigit works with over 6,000 banks and credit unions. There is a search form on the site and in the application in which it is easy to find your bank. A nice update is the ability to link Walmart Moneycards from Green Dot to an account.
Can I borrow again after I pay Brigit back?
Once you repay the loan, if you need it again, you'll get it again. This is all included in your monthly fee.
How fast does Brigit deposit money?
Payment usually occurs within one to three business days. If you have a free subscription. If you are subscribed to a Brigit Plus account ($9.99 per month), it only takes 20 minutes.
How long does it take Brigit to verify my documents?
Any transactions and operations in  Brigit are fast. Verification takes 24 to 48 hours.
Does the Brigit app give you money instantly?
Registration will take 2 minutes. Account verification is instant.
What is the max amount of money Brigit let you borrow?
The platform gives small loans. You can take a maximum of $250 for your extra needs.
What happens if you don't pay Brigit?
The good news for Brigit users is that the app has no late fees or penalties. If you are unable to repay the loan on the due date, you can renew it by logging into the app and using the special extension credit.
What are Brigit's working hours?
The company operates the whole week to provide fast and high-quality service to its customers. Brigit works from Monday to Friday, 24 hours a day.